< all posts
We're changing. Work...anywhere!
The COVID-19 pandemic has changed the world and life as we once knew it and is continuing to challenge the way many of us live and work everyday. For the past year many of us have been, at sudden notice, forced into working remotely. Something we've had to learn and adapt to quickly… a test of sorts for LandTech in order to support the business and the individuals within it. During this time we've been asking ourselves, what does it mean to work? …and is there a better way?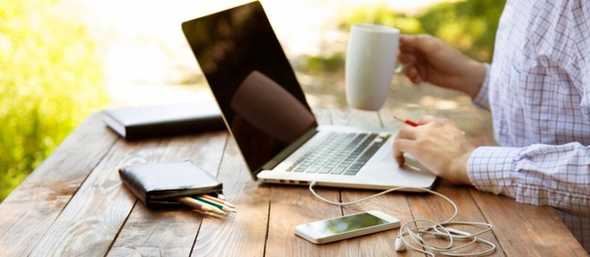 Work anywhere
2020 was an eye-opening year, forcing us into a situation that challenged our thoughts and beliefs around remote working. And 2021 looks set to continue with uncertainty and risk. During the past 9 months, one thing we have learnt is that remote working has worked well for us, and we're not bad at it… and getting better every day! So we decided to switch to remote-first… permanently! Here's some of our reasoning:
Certainty in uncertain times - we decided to give people some certainty when surrounded by uncertainty. No forced offices returns, no wait-and-see tactics sat working in make-do home set ups. We are now a remote-first business. By addressing the uncertainty, it enables us to move past the distractions and get back to focussing on delivering value to our customers.
A different way to work live - people can choose to work where they need to. That could be at home, in a cafe (eventually), in a green space under a shady tree or at our London office hub (we do still have and will continue to have an office, yet to be re-imagined) to see some familiar friendly faces. On top of allowing people to work where they need to, we operate full flexi working as part of being remote-first. Whether it's school runs, spending some time with your family/loved ones, going for a walk/run/cycle, popping to the dentist/doctor/physio, doing a weekly food shop… we let people self-organise as they need to in order to deal with… life. Which helps keep people fresh and energised, allowing them to do their best work with us - win-win!
Remote kit, personalised - given how long the pandemic may last for, we wanted to address issues people were having by not being properly set up for remote work. So we've formed a kit list (with flexibility in it) and a budget per person to help people get set up for remote working. Remote working does present challenges but that doesn't need to mean poor quality audio, up-the-nose angled video calls, bad lighting and poor posture. We understand, having switched to remote-first, that not everyone will have the space(s) and equipment they need (that the office formerly provided) to work effectively. But if we can help, we will… sit/stand desks, ergo chairs, webcams, headsets, mechanical keyboards, ultrawide monitors, the list goes on.
New locations - being remote-first has enabled those that chose to, re-imagine where they want to live (although currently tied to UK tax residency until we can expand our offering). London has for a long time been a fantastic place to live, but for some is also a place of high rents, even higher property prices and/or long sweaty commutes. Not any more. Many of us have already started moving to different areas of the UK… Brighton, Bristol, Cheltenham to name a few. This has enabled us to hire further and wider (as far as Inverness!), supporting our need to grow. But it has also allowed us to support employment around the country (and not just in London) and enable some diversity in where people are from in the UK and the lifestyles they lead.
One market rate - we don't vary pay based on location (within the UK) and we never have done. We previously paid people, not based on where they live, but rather on their ability to get in to our London office. We're remote-first now… so our office is… everywhere! Or anywhere people are able to effectively work. By having one market rate it enables us to hire competitively across the UK and removes the complexity + overhead of having to figure out how to pay people based on where they live (and all the tiresome edge cases that can create). And whether someone is in Brighton one day and Bristol the next, we recognise they'll be online doing the same high quality work.
These changes are only the beginning of our journey into remote-first, but we think we're off to a good start. There's still plenty more to come!
---

We are the engineers behind LandInsight and LandEnhance. We're helping property professionals build more houses, one line of code at a time. We're a remote-first company with our tech team in Europe, and yes, we're hiring!